Ustica island's marine protected area is divided in three different zones: " A ZONE" of total reserve extending from Caletta to Cala Sidoti, "B ZONE" of general reserve, that goes from Punta Cavazzi to Punta Homo Morto northern sector, and "C ZONE" of partial reserve, that includes the southern sector of the island, extending from Punta Homo Morto to Punta Cavazzi.
A history full of ancient people…
The island of Ustica, a rocky reef of about 9 km2 , known as "the black pearl of Mediterranean Sea" thanks to the volcanic ground , is located on the northern coasts of Palermo and is fully surrounded by Tirrenian Sea. Always known for its beauty and for naturalistic patrimony that preserves, in 1986 was set up as marine protected area of Sicily (first in the entire country), considered a jewel of Mediterranean.
The first human establishments date back to the Paleolithic, and the big quantity of archeological finds founded also underwater, due to many shipwrecks during the time, testified the presence of ancient Mediterranean people, from Phoenicians to Greeks, and from Carthaginians to Romans, that leave traces everywhere. After that the island became a base of Saracens pirates for a long time.
In 1759 Ferdinando IV of Bourbons imposed the settlement of the island; in this period, under Bourbonist supremacy, Ustica became a place of internment for political prisoners, keeping this status from fascist period to the colonial war in Libya. In 1961 the internment was abolished and from that moment tourism has become more popular in the island.
The Sea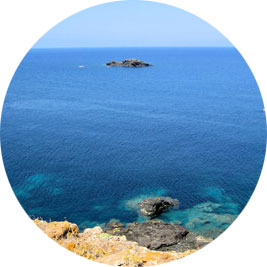 Ustica is a unique place in the world where you can live the emotions of Mediterranean Sea: an uncontaminated sea, full of rare species of fish, a spectacular flora and fauna, and seabeds comparable to an authentic underwater museum, make Ustica a unique location for diving lovers in Sicily.
Ustica's seabeds are a real paradise for diving lovers: natural mortise, inside the Marine Protected Area, are useful starting points for wonderful dives or snorkeling experience and sea watching to the discover of fantastic landscapes.
Ustica, as beautiful as rough and pure, offers a crystal-clear sea water that reflect the spectacular geological forms given by its volcanic physiognomy: the huge fallen rocks, canyons, cracks and caves, cliffs give birth to an underwater landscape that has really few unequaled place in the Mediterranean Sea for its variety and beauty.
The Island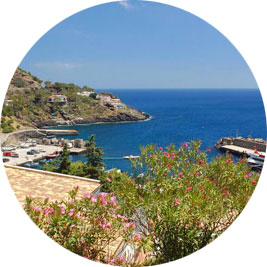 Ustica is represented by history and tradition, it's a small town made of narrow alleys, stairways with hibiscus and houses painted as paintings, that with its suggestive landscapes leave a sweet memory to visitors.
On this small plot of land in the middle of the sea , agriculture is always considered the main source of sustenance: Ustica's lentils, slow food facility, became the buttonhole of traditional farmers products during the last decade and Ustica's aubergine, to which it was even dedicated an event, is also important, with the annual award to the best restaurateur, promoted by the Association of Touristic Promotion and Valorization Visitustica.
By the touristic point of view, you may discover Ustica's history by enjoying its ancient archeological wonders: you may choose to visit prehistorical human settlements, or you may venture out to ancient tracks and to the street of the ancient small village feeling the unique emotion of riding a horse or a donkey.